Introduction
Wessex Water was the first company to provide near real-time bathing water notification through its Coast and Rivers Watch service. The service, which started in April 2012, goes beyond the bathing season and reports on when overflows are in use throughout the year.
Discharge alerts are generated automatically by our telemetry system, taking data from monitoring devices at the overflows and conveying it outwards using phone lines or mobile cell technology.
The information is provided to organisations and the public about when our storm overflows have operated, in near-real time.
We have focussed on those overflows most likely to affect the 48 designated bathing waters in our area and other popular waters used by bathers, paddlers, divers or water sports enthusiasts. In partnership with the Environment Agency (EA), we set up a system that provides near-real-time information on when these overflows have discharged. The data can be seen on our website and is also provided to Surfers Against Sewage for use on their SaferSeas App.
The data is also given to local authorities, the EA, shellfisheries and other interested parties direct by email, which allows them to act and notify onwards where necessary.
About storm overflows
Storm overflows are used during heavy rainstorms to protect properties from flooding and to prevent sewage from overflowing into streets and homes. As storm overflows should only operate during periods of intense rainfall, any foul water released from them will be very dilute because of the large volumes of rainwater flowing through the sewers.
Storm overflows have always been part of the sewerage network in the UK because the majority of sewers carry both rainwater and foul sewage and they prevent properties from flooding following intense rainfall. We are now getting more intense rainfall storms due to climate change.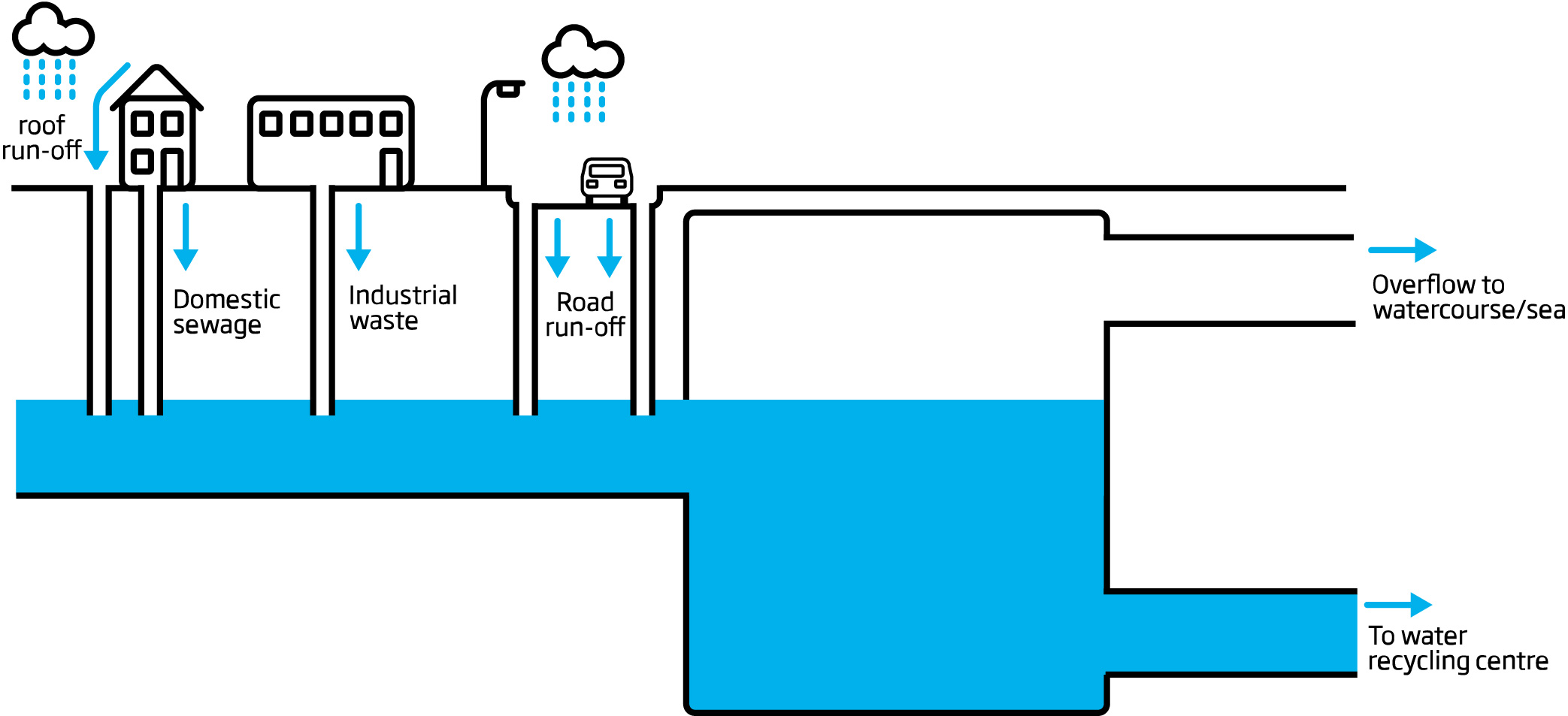 There are two main approaches to eliminating overflows; separation to stop stormwater from entering combined sewers, or constructing large storage tanks, which would have significant carbon consequences, cost billions and would be hugely disruptive.
We need Government to change legislation so developers cannot connect surface water drainage to combined sewers which is making the matter worse. There is also the need for water companies to be able to release rainwater only directly into a watercourse.
Ofwat, the economic regulator, needs to prioritise investment, which it tightly controls to keep bills down, so water companies can get on and help solve the problem.
Since 2000 Wessex Water has invested £181m to improve nearly 600 storm overflows across the region, with a further £150m set aside for improvements between 2020 and 2025. We also work with farmers on catchment management to help reduce run-off, which is a major factor in river/sea water quality, as well as tackling misconnections and educating our customers on how to avoid sewer blockages that cause pollutions.