We've come up with an innovative solution to resolve the issue of groundwater causing the flooding of domestic properties in the Wiltshire community of Hanging Langford.
What was the problem?
Lying in a chalk valley in Wiltshire and straddling the river Wylye, the water table around Hanging Langford, west of Salisbury in Wiltshire, rises to ground level during most winters, causing localised flooding.
As a result, the sewer system effectively became a land drainage network because residents had no option but to direct surface water down manholes to protect their properties from this flooding.
A temporary fix
Under emergency powers from the Environment Agency (EA), Wessex Water was pumping out the heavily diluted water from sewerage system to provide a drainage system for local residents.
But this was not an officially permitted arrangement and, as well as overland temporary pumping being unsightly, the area downstream of the local river in the village included a network of lakes managed by the Wiltshire Wildlife Trust.
What else could be done?
A new groundwater land drainage scheme would have been very expensive and only been beneficial for a few weeks in wet winters.
Similarly, expanding the sewer network's capacity and the downstream sewage works would also have been very expensive and unsustainable.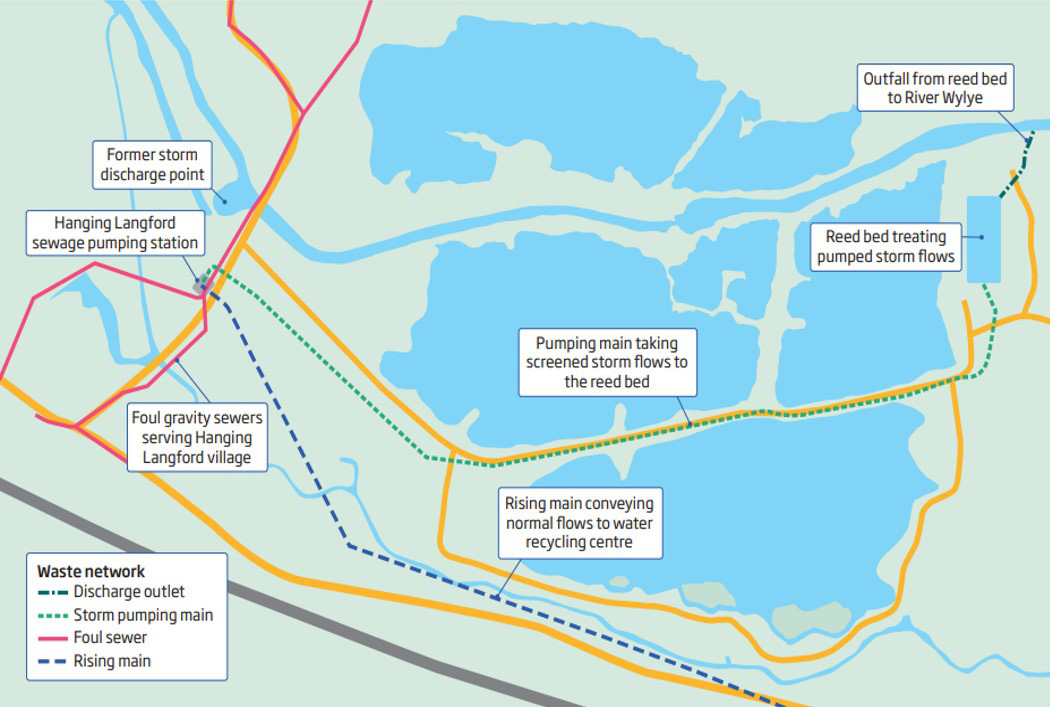 A pragmatic and sustainable solution
Firstly, Wessex Water ensured that the sewerage system was sealed to prevent infiltration by groundwater.
Then, via an innovative permitting arrangement with the Environment Agency, it was agreed to allow pumped and screened overflow during periods when groundwater was about to cause flooding.
A condition of the permit was that Wessex Water provided a reed bed adjacent to one of the nature reserve lakes.
This reed bed would further naturally treat the pumped stormwater, removing chemicals and pollutants prior to the water being discharged to the River Wylye.
Making a difference
Our recent results show that the reedbed removes 72% of suspended solids found in the arriving water, as well as 88% removal of E-Coli.
In addition, we have been monitoring the River Wylye upstream and downstream of the discharge point from the reed bed. This shows that there is no impact on the river in terms of phosphorus or ammonia concentrations and a slight improvement in terms of E-Coli.
Wessex Water now works closely with Wiltshire Wildlife to manage the reed bed, which also provides valuable habitat for a range of species such as dragonflies and warblers.
Since January 2023, we have been carrying out sampling, analysis, reporting and maintenance as agreed with the Environment Agency to show that the level of treatment provided by this reedbed is appropriate as a long term and sustainable solution for this storm overflow.
If successful, its status will change to a biologically treated intermittent permitted discharge, complying with standards to demonstrate no adverse impact to the environment.