Understanding the problem
Wessex Water is committed to completely eliminating the discharge of untreated sewage, starting with storm overflows that discharge most frequently and those that have any environmental impact.
Designed as a relief valve to protect homes from flooding, currently, if there is too much rainfall in the system, the overflow automatically discharges into watercourses.
The overflow near Bath RFC's rugby ground just off London Road in Lambridge was one such location and had been identified as one of the 13 most frequently discharging throughout our region.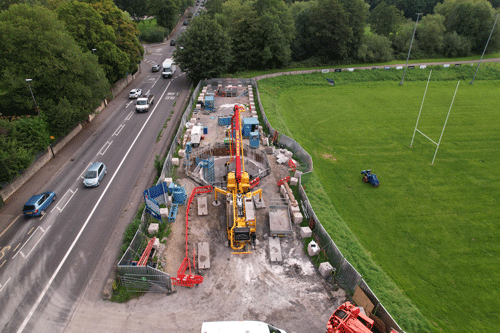 Meeting the challenge
Our five-month project, taking place within the car park of the rugby ground, is helping to cut the number of automatic operations of this nearby storm overflow into the nearby River Avon by around three-quarters.
A new storage tank, built below ground, will help prevent flooding by hosting increased flows from combined sewers, carrying both wastewater from homes and businesses and rain run-off from buildings and surfaces, during periods of heavy downpours.
By hosting more than 125,000 litres of storm water during intense rainfall, the tank then gradually returns the water to the sewer system for onward travel to a water recycling centre to be treated and safely returned to the environment.
Working with the community
As well as keeping nearby Lambridge residents informed about this project, we worked closely with Bath RFC to ensure they could still use their rugby ground during the construction work.
It follows earlier environmental protection work carried out by Wessex Water in the last decade, when new equipment was installed at nearby Kensington Meadows, within the car park of supermarket Morrisons further down London Road, to improve the screening of wastewater from a nearby storm storage tank.
More to come
In total, nearly 100 improvement projects relating to the discharge of untreated water are being completed in our region between 2020-25, part of a £3 million a month investment to reduce the number of hours storm overflows operate for by around 25 per cent.
You can read about our storm overflows improvement plan here.
But we're looking to go much further – continuing to tackle overflows affordably and sustainably, using a variety of solutions to support the environment around us.
We're proposing our largest ever investment in water and sewerage services – at around £3.5 billion – including a record £400 million to reduce discharges from storm overflows, between 2025 and 2030 – subject to regulators approving our business plan.
You can read more about our future investment proposals here.